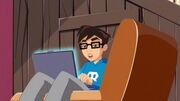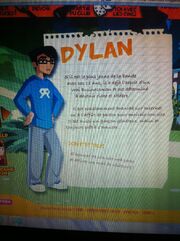 Dylan Kirrin is the son of
Dick
and
Dinah
. His siblings are
Oscar
and
Daniella.
He is a member of
the Famous 5: On the Case.
He is 11 years old and is the youngest of the Famous 5. He is a fan of gadgets and is "big on technology". He is also an aspiring entrepreneur who likes to look for ways to make money and is always open to new money making schemes. Brains run in his family so he relies on his wits to outsmart the bad guys. His hobbies include surfing the web, updating his website and taking photos on his latest digital camera. He aspires to be "mega rich and famous" but he's determined on doing it the right way.
Appearance
Edit
He has brown eyes, brown hair and fair skin. He is the shortest of the Famous 5. He wears black glasses with a rectangular rim. He wears a blue hoodie with some alien from Space Invaders on it, grey pants and white tennis shoes. He often carries a backpack with him. There are rare occasions where in he wears a red jacket instead of a blue hoodie.
He first appeared in the episode "The Case of the Fudgie Fry Pirates" which aired on April 5, 2008.